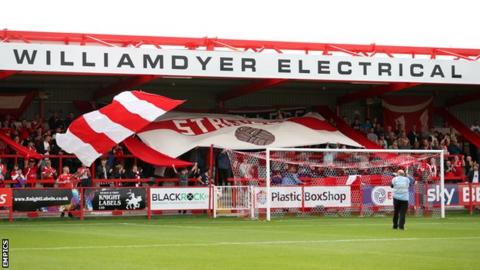 Holt told BBC Radio Lancashire the Premier League's actions filter down to adversely affect clubs in the Football League, which he said was "like a starving peasant begging for scraps".
The Premier League responded: "We will be writing to Mr Holt to ask him if he wishes the Premier League to continue the support we currently provide for his and other clubs in the EFL."
Holt then posted on Twitter on Wednesday: "WOW! After all the trouble we have gone to in rescuing @ASFCofficial is the @premierleague really threatening to close us down?"
In them, he accused the Premier League of "destroying" the game.
Accrington finished 13th in League Two this season with an average gate of 1,699 - the smallest in the Football League.
Holt told BBC Radio Lancashire the club usually has an annual turnover of about £2.2m and would expect losses of about £500,000 most seasons, but that should be less for 2016-17 because of their cup runs.
"It is all very well for the Premier League to take an isolated view that what they're doing doesn't affect anybody else, but my argument is that it does," he added.
"When you do things for the game, you've got to look at the entire game - you can't just deal with them in isolation.
"They generate all the cash and they need get some of it spread about."
The Premier League statement added: "The Premier League supports all clubs in the EFL with solidarity payments and provides significant funding for their community projects and youth development schemes - all things that Accrington Stanley benefit from.
"It is only because of the interest in our competition and in Premier League clubs that we can support Accrington, the wider football pyramid, and communities and schools across the country."
In a further response on Wednesday, Holt said he classed the Premier League statement as a "threat too far" and they could "please themselves with their funds", although he said he was not speaking "

fo

r the EFL" or members clubs.